Upcoming Events
How to Communicate Simply, Lovingly & Effectively
Poor communication is at the root of most relationship breakdowns. Based on the principles of Attitude Reconstruction, learn how to communicate constructively about any topic in any situation.
Instructor: Jude Bijou, MFT
When: March 17, 2018 (1 Saturday)
Time: 9:30 a.m. – 4:30 p.m.
Where: Room 31, Schott Center, 310 West Padre St. Santa Barbara
Cost: $49
Past Events
5 Day Attitude Reconstruction Workshop
Hollyhock Learning Center
Cortes Island, British Columbia, Canada
August 9-14, 2015
For details  http://attitudereconstruction.com/hollyhock-workshop
Women's Festivals Roundtable Discussion
A great turnout at the Jude's Women's Festivals Roundtable talk, "Five Minutes to a Better Emotional Life."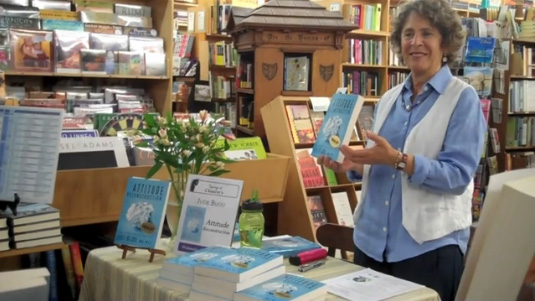 Author Jude Bijou at a recent book signing event for Attitude Reconstruction.